Retail-Ready Wholesale Delta-9 THC Lollipops
Mr. Hemp Flower's wholesale retail-ready delta-9 THC lollipops are individually packaged with one lollipop candy per unit. Each unit has a candy wrapper and Mr. Hemp Flower brand label and is available in two classic flavors, Cherry and Blue Raspberry. 
Each delta-9 lollipop contains 20mg of delta-9 THC, making these lollipops approximately twice the potency of the suggested serving size for delta-9 THC. If your customers want high-potency THC candy, then here it is!  
Our delta-9 THC lollipops are backed by independent third-party labs and certificates of authenticity, so both you and your retail 
customers can purchase with confidence.  
To view more information about pricing and quantities for our delta-9 THC lollipops apply for a wholesale account here. 
Retail-Ready THC Candy Wholesale
Packaged, Branded, Labeled

20mg Delta-9 THC Each Lollipop

High-Potency & High-Quality

USA-Made Hemp Product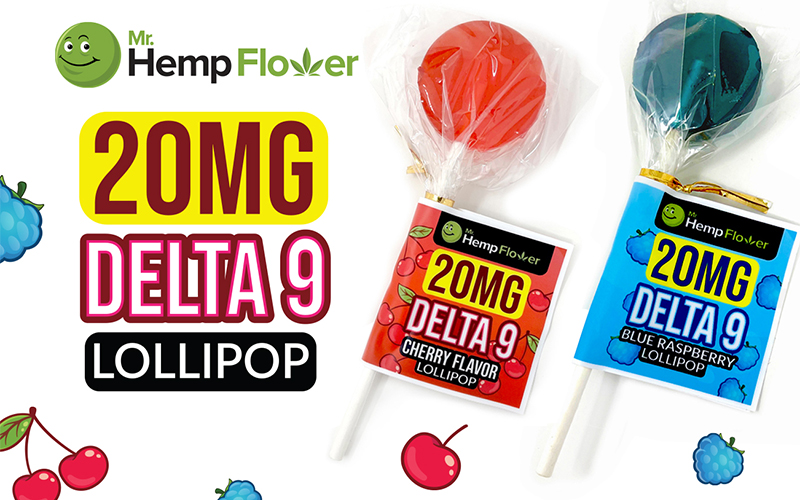 Give your customers something to get excited about with Mr. Hemp Flower's delta-9 lollipops. Offer them that classic lollipop experience with a potent boost of THC that will keep them returning for more of that sweet candy. 
Our wholesale retail-ready lollipops are legal in the US and are 100% ready for retail. Increase your sales and revenue by adding a better-selling SKU to your store today! 
Retailers in smoke shops, vape shops, CBD shops, and other outlets are seeing more sales with our delta-9 THC lollipops and other edibles. If you're not offering your customers THC candy, you're leaving money on the table!
Delta-9 THC Lollipops Best Wholesale Price
Mr. Hemp Flower offers the best wholesale price on delta-9 THC lollipops in mass quantities. If you need a best-selling THC candy product then look no further. 
Our vertically integrated company allows us to control every aspect of manufacturing, which means we control quality and pricing. This allows us to offer the best wholesale price on THC candies, including our latest line of 20mg delta-9 lollipops. 
Mr. Hemp Flower's wholesale hemp products are supported by an underlying foundation of experience, expertise, and the success achieved by our retail brands. 
Now, you can leverage that authority to boost your retail store's sales and profitability. Add our popular THC candy to your store today and start hitting your revenue goals. 
Best Delta-9 THC Lollipop Wholesale Brand 
If you want to get more sales for your smoke shop, then you need to carry the best delta-9 brands and products. Carrying the Mr. Hemp Flower brand means carrying the best delta-9 THC brand products that your customers will trust and love. 
The Mr. Hemp Flower brand is trusted for excellence in quality, service, and price, and our wholesale delta-9 products continue that tradition. From our beautiful, bold packaging to our all-natural flavors and premium delta-9 extract from hemp, our products will stand out in your retail shop. 
Don't waste any more time or retail space on hemp brands, gummies, and THC candies that aren't selling, and start generating better revenue month over month by adding Mr. Hemp Flower's retail-ready THC candy to your retail shop today. 
Wholesale Delta-9 THC Lollipops vs Delta-9 THC Gummies
Are you stuck between choosing delta-9 lollipops and delta-9 gummies for your retail store or vape shop? 
Having both options for your customers is the best choice, but if you have to choose, here's some helpful info about our popular delta-9 candies available for wholesale. 
Delta-9 lollipops are packaged individually as one 20mg unit. They sell fast and people will often buy multiple lollipops at a time. We're selling thousands of delta-9 THC lollipops right now, but they still aren't as popular as our delta-9 THC gummies. 
There is a difference in effects between delta-9 THC lollipops and delta-9 gummies. Lollipops activate faster due to sublingual absorption of THC, while gummies have a delayed effect because they are absorbed through digestion. 
People tend to take delta-9 gummies more for comfort, sleep, and stress-related issues, while people that enjoy the delta-9 lollipops enjoy them more for mood-boosting, energetic effects. 
Best THC Candy Wholesale Supplier 
Mr. Hemp Flower is built with convenience, efficiency, and consistency in mind. Our wholesale business can supply any size of demand for retail-ready THC candy, THC lollipops, and more.
Our supply chain web includes an expert network of licensed American hemp farmers and producers. We control our manufacturing processes and can produce high volumes of hemp products to keep up with your store's growing demands. 
Let us supply your retail shop with the best brand of delta-9 THC candy, lollipops, and hemp products, and start seeing your revenues and sales skyrocket.