Bulk Delta-9 THC Gummies- Unbranded
Bulk delta-9 THC gummies are made in our independently owned manufacturing facility with all-natural flavors, organic ingredients, and premium hemp-derived delta-9 THC.
Mr. Hemp Flower's bulk wholesale delta-9 THC gummies come in two delicious and unique flavor options, Blue Raspberry and Watermelon, and include 10mg of delta-9 THC per gummy. Mass quantity delta-9 THC gummies ship in commercial-grade professional containers and packaging that preserves the quality, integrity, and profile of our bulk delta-9 gummies.
That way you don't have to worry about the product losing quality due to exposure to heat or light. Bulk delta-9 gummies do not ship with any branding, labeling, or packaging, making them the perfect solution for retail brands and start-up brands that want to launch a new delta-9 THC gummy product. To view more information about pricing and quantities and to order our bulk delta-9 THC gummies in mass quantities apply to open a wholesale account here.   
Best Bulk Delta-9 THC Gummies
10mg Delta-9 THC Per Gummy

Full-Spectrum Hemp-Derived 

All-Natural & Organic 

No Brand Labeling or Packaging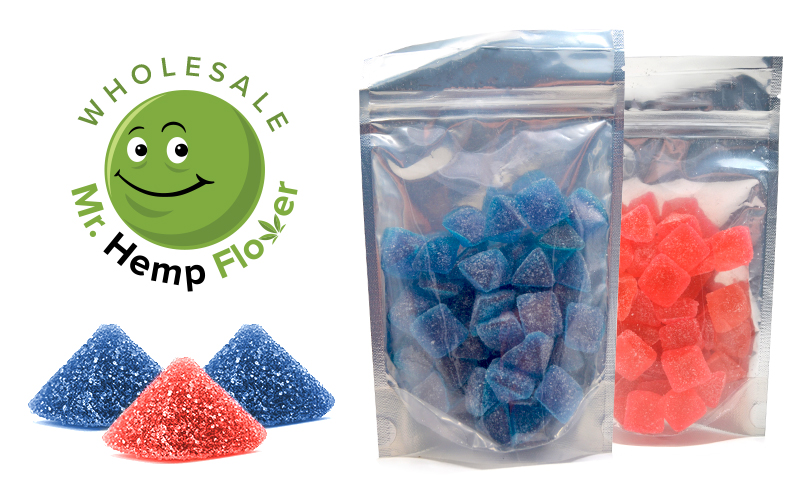 Don't waste any more of your time searching for the best bulk delta-9 gummies online when they're right in front of your eyes! Stop launching random products from shady distributors and no-name suppliers and start giving your customers THC gummies that they will love! 
Our retail customers love the taste, texture, and potent effect of our delta-9 gummies and yours will too! Choosing Mr. Hemp Flower's bulk delta-9 THC gummies means creating a product for your brand that has already been exposed to the retail market.  
We know people love our gummies, we know they work, and we know that they'll keep ordering them! Create a new product in your existing brand or launch a new start-up brand, the time has never been better to get started with your new business. 
Best Bulk Delta-9 THC Gummies Supplier 
We specialize in hemp products like delta-9 gummies and hemp flower, which means that we have an unbreakable supply chain of farmers and producers supplying us with the best hemp flower in the USA. 
And our vertically integrated manufacturing facility allows us to produce mass quantities of delta-9 THC gummies for your business on demand.
 Don't risk your business or brand on wholesale bulk delta-9 gummy suppliers that can't keep up with growing demand.
Open a wholesale account with Mr. Hemp Flower and you'll never have to look for another bulk provider of hemp gummies again. 
Our fast and simple onboarding process means you'll have quick approval of your wholesale account application pending review.
And our easy-to-use reordering system makes it a breeze to stay stocked with the products you need to generate better revenue for your brand or retail store. Generate better revenue with better-selling delta-9 edibles SKUs and apply to open a wholesale account now. 
Best Tasting Bulk Delta-9 THC Gummies
We've taken our time to craft the best-tasting bulk delta-9 THC gummies available on the market, according to our retail customers. Our customers love the juicy, squishy texture of our pyramid-shaped gummies, the bursting flavors, and the potent effects and yours will too!
Our delta-9 THC gummies are free from artificial flavors and synthetic fillers. We make our gummies only with natural and organic ingredients that amplify their effects and give them a great taste. 
Choose our Blue Raspberry for a more tart, sweet, berry flavor, or try the sweet, juicy taste of Watermelon. Are you ready to give your customers a new delta-9 gummy they'll come back for? We're ready to start producing your new brand or line of delta-9 gummies now!   
Start A New Delta-9 THC Gummies Brand 
When is a good time to start a new delta-9 gummies brand? Yesterday was the best time, but now is the second best! Do you operate an edibles brand or hemp company? It's time to add delta-9 gummies to your catalog of edibles.
Are you looking for better-selling SKUs to generate more revenue for your company? Start with Mr. Hemp Flower's delta-9 THC gummies and launch your new delta-9 gummy products now. 
The hemp edibles market is skyrocketing right now with delta-9 gummies at the forefront. Be an early mover and get started before bigger companies get involved. 
Is it legal to sell delta-9 THC gummies in your smoke shop or vape shop? If you're not sure about delta-9 gummies in your state, our wholesale representatives can help you! To get more information regarding our bulk delta-9 THC gummies, apply for a wholesale account here.