Wholesale Delta 9 Gummies
Mr. Hemp Flower's wholesale Delta-9 THC Gummies are the best hemp product to add to your retail store or smoke shop. They come labeled, branded, and ready to sell! 
Your customers will love the potent effects and delicious flavor and texture of our best-selling delta-9 gummy. 
Our retail-ready delta-9 THC gummies come in packages with five gummies and bottles with 30 gummies that are available in two distinct and tasty flavors. 
To view more information about pricing and quantities for our delta-9 THC gummies apply for a wholesale account here. 
Best Wholesale Hemp Gummies for Smoke Shops 
Are you looking for a wholesale hemp gummy product for your smoke shop or vape shop that will bring you the sales you need to grow? 
Most smoke shop owners pack their shelves with whatever products distributors convince them to sell. It's a hit-or-miss process that can leave your business sitting on a product that doesn't sell. 
Don't take up valuable retail space in your store with products that won't move. Replace them with high-quality delta-9 THC hemp gummies from Mr. Hemp Flower and give your customers a great reason to return. 
Branded & Retail-Ready 
5-Packs & 30-ct Bottles 
Wholesale Delta-9 THC Gummies 
10mg Delta-9 THC Per Gummy 
Watermelon & Blue Raspberry Flavors
Certified Third-Party Labs 
Easy-To-Use Reordering System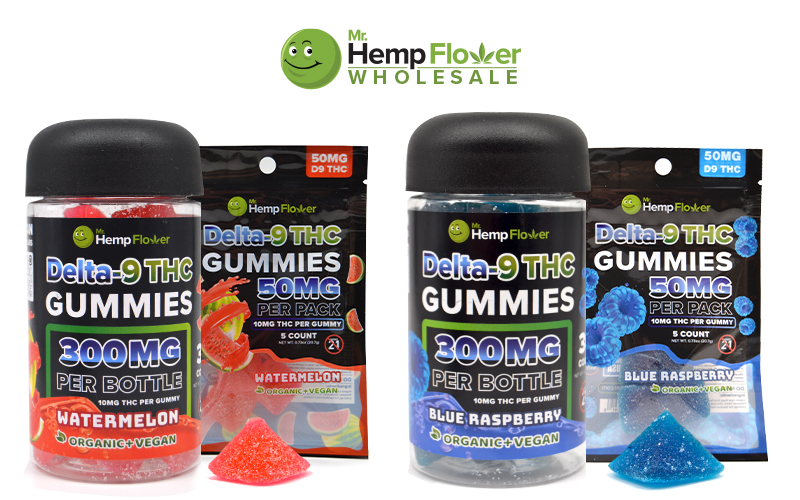 Are Delta-9 THC Gummies Popular?
Popular hemp products like hemp gummies are a great option to add to your retail store's selection, but what's the most popular brand of hemp gummies?
Wholesale delta-9 THC gummies are very popular in 2022 in smoke shops, vape shops, and wellness stores. People enjoy having an alternative to smoking or vaping and love the psychoactive effects of delta-9 gummies. 
Mr. Hemp Flower is among the most popular brands of delta-9 THC hemp gummies in 2022, and our delta-9 gummies are our most popular product. 
Why Do People Take Delta-9 THC Gummies?
Most people report taking delta-9 gummies to help with aspects related to pain, sleep, comfort, and mood. Our customers tell us they love taking delta-9 THC to help them feel better, sleep better, and live a better quality of life.
Many people enjoy taking delta-9 THC gummies for their potent psychoactive properties that amplify sensorial experiences and alter the mind. Our customers say they love how delta-9 THC gummies make them feel and how it amplifies their experiences of nature, art, food, music, and life.
How Strong Are Delta-9 THC Gummies? 
Hemp gummies get their psychoactive properties from delta-9 THC, the primary active compound in hemp flower. Delta-9 THC is extracted from hemp flower and used to make our delicious gummies, giving them their heady qualities. 
Since each person responds uniquely to taking delta-9 THC, it's recommended that beginners start with a small amount (less than 5mg or half of one 10mg gummy) and wait up to an hour to see how strongly it affects them. 
Delta-9 THC is the most potent of the hemp gummies in our retail-ready wholesale product line. Delta-9 THC gummies are about twice as strong as delta-8 THC gummies. The average serving size of delta-9 THC is 10mg, while the average serving size of delta-8 THC is 25mg. 
How long do delta-9 THC gummies last? Some customers will go through a 30-count bottle in a week, while for other people it will last anywhere from one to three months. Customers like our 5-packs to share with friends for the weekend and special occasions. 
Are Delta-9 THC Gummies Legal To Sell?
Yes, delta-9 THC gummies are legal to sell in vape shops and smoke shops in the US. If you aren't selling delta-9 THC gummies in your retail shop yet, you're leaving money on the table and telling customers to shop somewhere else! 
Delta-9 THC gummies are generally classified as edibles and regulated similarly to CBD oil and other hemp products legalized under the 2018 Farm Bill and Hemp Farming Act by President Donald Trump. 
Delta-9 THC gummies are legal in the US because they adhere to the THC limit of 0.3% delta-9 THC by dry weight volume basis. 
Mr. Hemp Flower's hemp-derived delta-9 gummies meet the legal criteria, which is why we can sell them legally all over the country online and why you can sell them in your retail store.
What's The Best Delta-9 THC Gummy Brand? 
The best delta-9 THC wholesale gummy brand is one that provides a consistently high-quality product that has great branding, consumer trust, and a reordering system that's easy to use.
Mr. Hemp flower provides expert wholesale account support when you need it and makes stocking your shelves with great hemp products fast and easy. 
Start adding Mr. Hemp Flower wholesale products like delta-9 THC gummies to your store today and start generating better revenue with better hemp products!