Wholesale Delta-9 THC Sleep Gummies
Mr. Hemp Flower's Delta-9 THC Sleep Gummies are formulated with the perfect blend of natural plant-based compounds that promote comfortable sleep. 
Your customers will enjoy the delicious flavor and texture of our mixed berries sleep gummies, but most of all they'll get a good night's sleep. 
The primary ingredient in our retail-ready sleep gummies is 10mg of delta-9 THC, which provides a comforting, mood-boosting effect that promotes a sense of well-being.
We fortified our 10mg sleep gummies with added melatonin, myrcene terpenes, and CBN or cannabinol. 
The proprietary blend of botanicals and sleep compounds creates a synergistic entourage effect perfectly balanced to promote sleep and encourage sleeping the whole night through. To view more information about pricing and quantities for our delta-9 THC sleep gummies apply for a wholesale account here.
Retail Ready Branded D9 Sleep Gummies
Branded & Retail-Ready 

Wholesale Sleep Gummies 

10mg Delta-9 THC Per Gummy 

10 gummies per Jar

Mixed Berries Flavors

D9+ Melatonin + CBN + Myrcene 

Top-Selling Sleep Gummies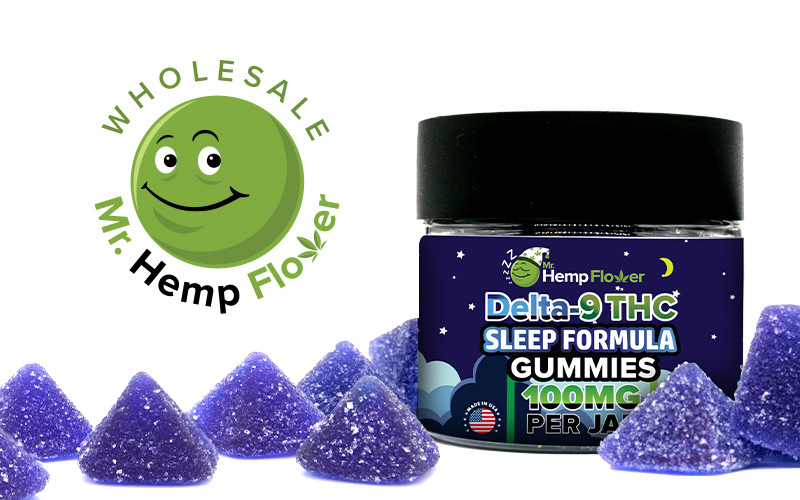 Best Wholesale Sleep Gummies For CBD Shops
The best sleep gummies you can add to your hemp retail shop in 2022 are Mr. Hemp Flower's sleep gummies. The added melatonin, CBN, and myrcene in our gummies create a guaranteed sleep effect that will keep your customers satisfied. 
Our packaging is bold and beautiful, drawing your customers' attention, and the tasty flavors and consistent effects of our sleep gummies will convert your new customers into lifetime clients. We use all-natural ingredients in our sleep gummies with no artificial ingredients.
Our premium hemp-derived delta-9 THC is extracted from organically cultivated hemp flower from licensed American farmers in states such as Oregon, Washington, and Colorado.We go above and beyond to provide the best quality wholesale hemp products to retailers.
That starts with testing all of our products in independent third-party labs and providing certificates of authenticity on all of our SKUs.This way you know that you're providing a safe, quality hemp product to your customers that's accurately labeled, free from contaminants, and has a consistent profile and effect
Wholesale Delta-9 Gummies With Melatonin
Are you looking for the most effective sleep gummy for your customers? You want to sell hemp products that you're proud of and that your customers will want to keep buying. Our sleep gummies are fortified with a blend of 2mg melatonin + 2mg myrcene terpenes + 2mg cannabinol for optimal sleep wellness. 
Melatonin is a naturally produced hormone produced in the brain that regulates healthy sleep cycles. Without it, we can't fall asleep, which is why taking as little as 2 mg of melatonin is safe and effective to help with sleep.
 Myrcene terpenes give our sleep gummies a "couch-lock" effect that leaves users glued to the couch or bed in comfort, promoting rest. 
Finally, CBN or cannabinol is a hemp cannabinoid compound with sleep-promoting properties. CBN synergizes with the delta-9 THC in our sleep gummies to create an amplification of hemp's properties making it a one-two-punch knockout remedy against sleep issues. 
How Strong Are Delta-9 THC Sleep Gummies? 
Delta-9 THC sleep gummies are strong enough to make you fall asleep. Each person responds differently. Some people only need to take half of one gummy, while others require an entire gummy. 
Our sleep gummies with melatonin are considered "stronger" than our flagship delta-9 THC gummies because of the added compounds which promote drowsiness. 
Delta-9 THC sleep gummies are stronger than delta-8 THC gummies or CBD gummies and have stronger properties than HHC gummies. 
Is It Legal To Sell THC Sleep Gummies In Store?
Yes, you can legally sell THC sleep gummies in your store. Do you need a license or prescription to sell THC gummies in the US? Who can sell THC gummies legally in the USA? Delta-9 THC sleep gummies are a great product SKU to add to any retail shop such as – 
CBD shop

Vape shop

Smoke shop

Head shop

Wellness shop

Grocery Store

Gas Stations

Convenience Stores 
You don't need a special license to buy wholesale sleep gummies with Mr. Hemp Flower and our delta-9 THC sleep gummies are legal to sell in your retail shop. 
All of our hemp products are legal in the USA and adhere to the criteria set out in the 2018 Farm Bill that legalized hemp products. 
Does Mr. Hemp Flower Do White Label or Private Labeling?
Mr. Hemp Flower doesn't provide any white label or private labeling for wholesale hemp products, including our sleep gummies. 
If you're ready to start your own brand of hemp products, shop our bulk hemp products that ship in mass quantities without branded packaging or labeling. 
Whether you're a retail shop or an e-commerce business looking for great retail-ready hemp products, Mr. Hemp Flower has the best wholesale products available at the best prices.